When a Roman senator's black-sheep son meets a hot-tempered Germanic priestess,
his resolve to change his maverick ways clashes with the will of an emperor.
"A story that captivates and enthralls…. Marcus is an amazing character, passionate, intelligent and fascinating."

—Book Lovers Paradise
Roma Amor
A Novel of Caligula's Rome
2022 READERS' FAVORITE SILVER MEDAL WINNER
AN INDIEBRAG MEDALLION HONOREE
Book 1 of the Roma Amor saga. Ordered home from the legions by his ambitious father, Marcus Carinna is charged with serving the idolized princeling who was once his brother's closest friend.
Conspiracy, betrayal, and malice ensnare him as he struggles to atone for his brother's treason, while hiding his own infatuation with a vengeful Germanic hostage girl. Most ominous of all, the new master of Rome, to whom Marcus now owes obedience, is the friend who let his brother die: Caligula Caesar.
Learn more about

Roma Amor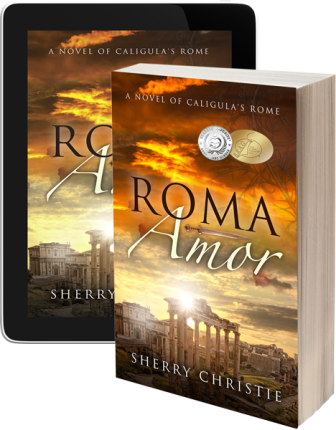 Amber Road
A Novel of Love and Betrayal on the Roman Frontier
AN INDIEBRAG MEDALLION HONOREE
Book 2 of the Roma Amor saga. They call it a road, this rutted track that meanders to the northern sea where amber is found. To ex-tribune Marcus Carinna, it's a leap from Rome's frontier into a wilderness of hostile barbarians, beasts, and spirits.
Yet the Amber Road is the trail he must follow to find Aurima, the Germanic priestess who may help him restore his blackened honor—if he can escape her malevolent father and the imperial agents pursuing him.
Learn more about

Amber Road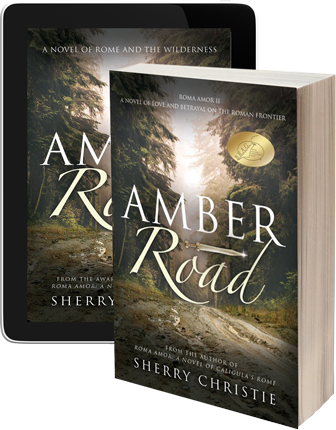 Teenage boys driving too fast is nothing new.
(Too bad Roman teens didn't have airbags.)
A Roma Amor prequel tentatively named Fortuna's Wheel is now in the works.
In this pre-Aurima novella, young Marcus Carinna is wild about chariot racing, bribing his way onto the practice tracks of Rome's racing clubs. His parents and his tutor Phormio thoroughly disapprove of this risky pastime. However, that doesn't stop a 16-year-old boy determined to out-daredevil his friends -- until a crash brings him to the attention of the sinister Praetorian Prefect, Sejanus, who fears Marcus has learned something that threatens his ambition to rule Rome.