Sign up to stay in touch
with Marcus and Aurima...
What's going to happen next to passionate, resolute Marcus Carinna, heir to a noble house of Rome, and the bewitching and fearless Aurima, priestess of the Germanic goddess Austro?
When you join my Readers Group, I'll keep you posted via e-newsletters with excerpts from the next novel-in-progress and updated publishing plans, as well as info on writing I do outside the Roma Amor world.
Like to receive these exclusive newsletters? To sign up, just scroll down!
The Roma Amor Saga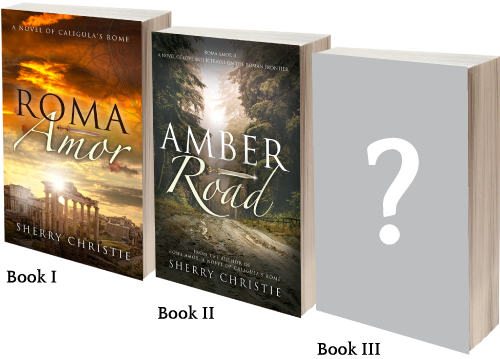 ... and receive a free e-novella!
As a member of my Readers Group, you'll immediately be eligible for a free download of Villa of the Mysteries: A Novella of Nero and the God Dionysus—with a (fictional) inside story on the wall paintings in Pompeii's real-life Villa of the Mysteries.
You'll meet Chryse of Herculaneum, a painter of birds and flowers who has struggled to make a living since her husband's death. An unusual commission from a wealthy noblewoman will oblige her to deceive the Emperor Nero, a self-proclaimed connoisseur of the arts, and Maximus, the eagle-eyed commander of his guard… while knowing that if she fails, she could end up in the arena as a lion's lunch.