This was a thrilling read, full of suspense, action, and cultural detail. I really LOVED this book!" - IndieBRAG Reader
Amber Road
A Novel of Love and Betrayal on the Roman Frontier
SPRING, 38 AD. Far from the intrigues of Caligula's Rome, a ramshackle settlement clings to the Danube bank near the legion fortress of Carnuntum. A young man paces the rutted streets, impatiently eyeing the forested wilderness across the river.
Disgraced after a treasonous attack that endangered the Princeps, Marcus Carinna sees one hope of redeeming his honor: to recover a legion's sacred Eagle captured earlier by Germans. To succeed, he needs the help of his beloved, the bewitching and fearless Germanic priestess Aurima.
Aurima had promised to join him after winning support for his mission. But that was months ago. Has she abandoned him? Is she even alive, or dead at her brutal father's hands? There's only one way to find out—yet crossing into the barbarian Mark is to risk death among the hostile tribes.
When an imperial spymaster recruits him to retrieve captives who may know about the lost Eagle, Marcus jumps at the excuse to lead armed troops into the wilderness. But as his troops slog along the rutted track of the Amber Road, he will discover that he is not out of reach of his enemies' vengeance—and that saving the woman he loves is going to demand more heart and will than he knew he possessed.
What readers and reviewers say about
Amber Road
The long-awaited sequel to Roma Amor has arrived, and it's outstanding. Like the 1st book it has excitement, wonderful characters, a romance, and it makes you feel that you are in Ancient Rome."
— Amazon review
Sherry Christie's thoroughly absorbing, well-written narrative follows the efforts of a young Roman aristocrat to come to terms with a world that is entirely unfamiliar to him: one where wise women, clever dwarves, and ferocious warriors have the power to save or destroy everything he cares about."
— Ann M. Moore
Marcus is a man obsessed with restoring his family's esteem but who's also tired of politics, a stubborn skeptic regarding magic but in love with a priestess. In addition to a notable sense of historical authenticity, [Amber Road] promises relentless action conveyed at a breathless pace. "
— Kirkus Reviews
I very much enjoyed [this] gripping adventure with believable characters. Drawn through the twists and turns, I never guessed what was coming next."
— Ruth Downie, best-selling author of the "Medicus" series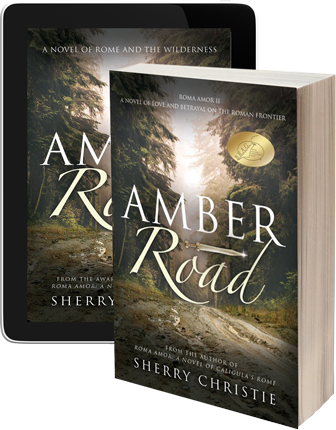 Buy Amber Road A Novel of Love and Betrayal on the Roman Frontier
in print, ebook, or audiobook from your favorite seller:
⇣
Amber Road was awarded
the B.R.A.G. Medallion
IndieBRAG's mission ("BRAG" stands for Book Readers Appreciation Group) is to discover talented self-published authors and help give their work the attention and recognition it deserves. When readers in their volunteer network feel a submitted indie book deserves to be a Medallion honoree, it means the book ranks highly on 10 criteria, including plot, characters, and style.